Shyama Prasad Mukherji Rurban Mission (SPMRM)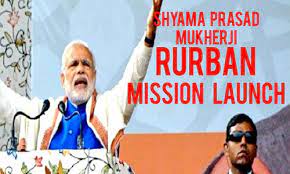 General :
Shyama Prasad Mukherji Rurban Mission (SPMRM) is an attempt to make our rural areas socially, economically and physically sustainable regions. The Mission strives to strengthen rural areas by providing economic, social and infrastructure amenities, thus leading to sustainable and balanced regional development in the country.
Launched the Scheme
Hon'ble Prime Minister has launched this scheme on 21st February, 2016 in the State of Chhattisgarh. The Mission aims at development of rurban clusters, which would trigger overall development in the region.
Vision
To "develop a cluster of villages that preserve and nurture the essence of rural community life with focus on equity, and inclusiveness, without compromising with the facilities perceived to be essentially urban in nature, thus creating a cluster of urban villages".
Aims
Under this National Rurban Mission (NRuM), to ensure organized development of the clusters, the areas would be well delineated and would be duly notified as planning areas under the relevant Planning Acts of the States.
Mission
These clusters would be developed by provisioning of economic activities, developing skills & local entrepreneurship and providing infrastructure amenities. The Mission aims at development of 300 such clusters over the next 3 years, of which 100 clusters would be formed in the first phase.
Selection Criteria
The 100 clusters aimed to be created in the first phase have been distributed amongst the States based on an objective methodology. A Rurban cluster, would be a cluster of geographically contiguous villages with a population of about 25,000 to 50,000 in plain and coastal areas and with a population of 5000 to 15000 in desert, hilly or tribal areas.
Selected Clusters of Haryana
The MoRD, GOI has approved 10 clusters in 3 phases under SPMRM. The details of the same are as under:-
Beneficiary:
scheme
Benefits:
scheme